M O N A S T E R Y   O F   S T .   M A G D A L E N A   I N   A L T Ö T T I N G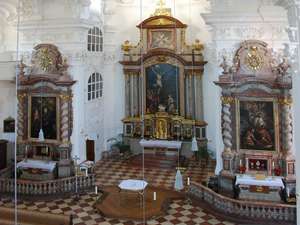 Order of Worship and Prayer
Dates and Events
Holy Masses in the Gnadenkapelle (Chapel of Grace)
       Daily: 6:00 / 7:00 / 8:00 / 9:00 / 10:00 / 11:00 a.m.
    Holy Mass in St. Magdalena
       Weekdays:
           11:00 a.m.
       Sundays:
               9:30 a.m. (followed by individual blessing with the Holy Cross relic)
           15:00 Youth Mass (afterwards every 3rd Sunday Meeting in the Monastery)
Confession (daily except Sundays)
9:30 a.m. to 11:30 a.m. (St. Anna Basilica, with the Capuchins)
14:00 to 16:00 (St. Magdalena, with the Samaritan Brothers)
Blessing of the Devotional Objects (daily)
10:00 / 12:00 / 14:00 (St. Magdalena)
11:00 / 13:00 / 15:00 (St. Konrad)
Way of Pilgrimage with Priestly Accompaniment to the Mother of Grace
From April to October: 1st Saturday of the Month,
Meeting point in Heiligenstatt at 9:30 a.m. (next to the church, can be reached by train from Altötting station, distance approx. 6 km).
Monthly Triduum
Priest Thursday
Friday of the Sacred Heart of Jesus
First-Saturday-Devotion to the Immaculate Heart of Mary
The programme can be ordered with us.
Silent Days in the Monastery
Possible as of now, see below for registration.
Retreats "Lectio divina"
Dates from Spring 2022.
Youth House St. Magdalena; overnight stays for youth groups from Spring 2022.
Enquiries:
Brüder Samariter FLUHM e.V.
Kapellplatz 9
84503 Altötting
Germany
Phone: +49 / (0)8671 - 97 51 31 5
E-mail: This email address is being protected from spambots. You need JavaScript enabled to view it.